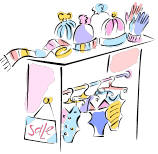 Looking for local Children's Consignment Sales in Wichita Area of Kansas? Scroll down this page and you will see the all of those in Wichita Area of Kansas, sorted by county. ALWAYS call before you go to confirm the info, they don't always report changes to me!
Help us keep this list of Children's Consignment Sales current and accurate and; if you know of one we missed and want to add it or correct the information, please let me know! Most are planning to hold their sales, with social distancing.
They are great way to find excellent lightly used (often looks like new), children's clothing, toys, baby clothes, maternity clothes, infant equipment, toys for children and infants, baby and children's furniture (cribs, rockers, etc.), strollers, books, cds, dvd's, video's, educational toys, baby monitors, and much, much more. The prices are usually fantastic. Clothes often go for as little as $1 per article, most commonly around $2 to $5 per item. Often, the consignment sales have a half-price sale during their last day, which is typically a Saturday. Be sure to see our tips section! Be sure to see our lists of local Pick Your Own farms to take your kids to! See www.PickYourOwn.org. There are affiliate links on this page. Read our disclosure policy to learn more.
Updates for August 2022
August: Children's Consignment Sales are usually held twice a year, late winter (February and March) and Fall (August and September). Keep in mind that due to Coronavirus, some organizations may postpone or cancel their Spring sales; always check their website, or call or email them for confirmation.
Children's Consignment Sales by County
Click on Resources above, if you need a county map
Butler County
Britches And Lace LLC Kids Consignment Sale - Always see their website, facebook page or by email for updated dates, hours and conditions
1611 West Ledgerwood Road, Andover, KS. Phone: (620) 845-2368. Phone: (620) 845-1262 cell. Email: britchesandlace@gmail.com. Directions: see their website. Payment: see their website. We have a wonderful selection of gently used spring and summer children's clothing, toys, baby equipment, nursery items, as well as children's and juvenile furniture. The toys are incredible to you never know what's going to come in so you have to come check us out! Combine hundreds of garage/yard sales into one sale and we provide the time and space for all these consignors to display their items. Clothing is organized by size and gender and toys and baby items by categories to make your shopping experience easier. We only accept gently used merchandise in excellent condition. This is a great opportunity to shop for spring and summer clothing, holiday outfits, dance wear and a whole lot more. We allow our consignors to bring in additional merchandise on Thursday evenings so you'll want to come back and shop on Friday and Saturday for "new" items that have been brought in! PARKING: We encourage car pooling with family and friends during our busiest times which are Wednesday evening during presale and Thursday morning.Click here for a link to our Facebook page.

Spring dates:
THURSDAY, (typically in March) from 9:00 am to 8:00 pm
FRIDAY, (typically in March) from 9:00 am to 7:00 pm
SATURDAY, (typically in April) from 9:00 am to 2:00 pm (1/2 Price Day, many items reduced)

Fall dates:
See their website.


Chase County
Cowley County
Harper County
Harvey County
Kingman County
Marion County
McPherson County
Reno County
Kid's Closet Connection Of Hutchinson - Always see their website for updated dates, hours and conditions
Kansas State Fairgrounds, 2000 N Poplar St, Hutchinson, KS 67502. Phone: (620) 664-7341. Email: hutchinson.ks@kidscloset.biz. Directions: Click here for a map and directions. The sale has items for baby, toddlers, children, teens, maternity, AND adult women, adult men. Discounted prices on many items on the last day! Strollers are allowed (anytime). Restrooms are available. There are pre-sale hours for consignors. There are pre-sale hours for volunteers. Payment: Cash, Debit cards, Visa/MasterCard, Discover. . Click here for our Facebook page.

Spring dates:
Typically held in late March or early April;
See our website for current dates and times! 2021 will be sometime between March 28th - May 1st. .

Fall dates:
Typically held in October or November
See our website for current dates and times!
2021 is yet To Be Announced. .

(UPDATED: March 05, 2021) (ADDED: February 14, 2020)
Rice County
Sedgwick County
Kid's Closet Connection of Wichita - Always see their website, facebook page or by email for updated dates, hours and conditions
Wichita Hoops, 5260 N. Toler Drive, Bel Aire, Kansas 67226. Email: wichita.ks@kidscloset.biz. Directions: see their website. Payment: Cash, Credit Cards Accepted.see their website. Free Admission. .Click here for a link to our Facebook page.

Spring dates:
Typically in February

Fall dates:
See their website.

Mulberry Bush Consignment - Always see their website for updated dates, hours and conditions
10100 Grady Ave, Maize, KS 67205. Phone: (316) 461-2485. Email: joanna@mbcsale.com. Directions: Click here for a map and directions. The sale has items for babies, toddlers, children, teens. Discounted prices on some items on the last day!Strollers are allowed (anytime). Restrooms are available. There are pre-sale hours for consignors. There are pre-sale hours for volunteers. There are pre-sale hours for certain groups (see our website). Payment: Cash, Debit cards, Visa/MasterCard, Discover, AmEx. Visit the MBC Sale for incredible deals on new & gently-used clothing (sizes preemie - pre-teen; all seasons), shoes, toys, bedding, strollers, games, books, bikes, feeding/nursing accessories, baby items, and MUCH MORE! Thousands of items at bargain prices under one roof!!.
Spring dates:
Thursday, March 21, 2019 from 9 am to 7 pm
Friday, March 22 (9 am to 7 pm)
Saturday, March 23 (8am to 2pm ).
Fall dates:
See their website

(ADDED: January 25, 2019)
Sumner County