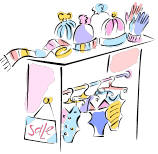 Click here for the ConsignmentSaleFinder.org starting page
See below for farm-related family activities and information
What to know about consignment sales:
Children's consignment sales are 2 to 4 day events, often sponsored by churches, in which people bring in clean, gently used children's clothing, toys, books, furniture, games, etc., and sell it at a huge markdown compared to new prices. The church or other sponsoring organization takes a cut. The prices are set by the seller, called a "consignor".
They are great way to find excellent lightly used (often looks like new), children's clothing, toys, baby clothes, maternity clothes, infant equipment, toys for children and infants, baby and children's furniture (cribs, rockers, etc.), strollers, books, cds, dvd's, video's, educational toys, baby monitors, and much, much more. The prices are usually fantastic. Clothes often go for as little as $1 per article, most commonly around $2 to $5 per item.
Specific Fruit and Vegetable Picking and Preserving Guides and Recipes