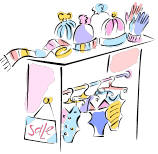 Comparison of Types of Children's Consignment Sales
Which type of consignment sale is best for you? I like church consignment sales best, as either a shopper or a seller. Their rates are best, they are safe, local and easy to use, and quality is ususally high and inspected. Facebook yard sales and Craig's List pay you the highest rate as a seller.. but can be dangerous - do you really want strangers coming to your house?
The above graph is based on personal trials with all the different BUY/SELL avenues in 2015. Your experience may have different outcomes. Some of the information such as general sell through and percent sold were estimated from sources due to the fact exact numbers can never actually be known, just estimated. Other information is personal opinion, such as which are safest. Without a doubt, I believe consignment sales are the best place to sell, recycle and earn money for your items!
| | | | | | | | |
| --- | --- | --- | --- | --- | --- | --- | --- |
| Feature | Church consignment sale | Private consignment sales | Online consignment | Consignment shops | Yardsale sites on Facebook | Ebay | Craigslist |
| Shopper features | | | | | | | |
| See and touch in person | Yes | Yes | No | Yes | Yes | No | Yes |
| Safety | Excellent | Very Good | Excellent | Excellent | Poor | Very Good | Poor |
| Quality checks by the organization | Yes | Yes | No | Yes | No | No | No |
| Early, late and Saturday hours | Yes | Yes | N/A | Weekend | Maybe | N/A | N/a |
| | | | | | | | |
| Seller features | | | | | | | |
| Seller % of sale | 65% - 85% | 65% - 80% | 10% - 15% | 40% - 45% | 100% | 80% - 85% | 100% |
| Payment | within a week | within a week | 6 to 8 weeks | 1 to 2 months | Upon sale | Upon sale | Upon sale |
| Safety | Excellent | Very Good | Excellent | Excellent | Poor | Very Good | Poor |
| Shipping | not needed | not needed | Yes, additional costs | not needed | not needed | Yes, additional costs | not needed |
| Items not sold can be returned or donated | Yes | Yes | | Sometimes | Yes | Yes | Yes |
| Average sell rates | 50% - 75% | 50% - 75% | about 50% | about 50% | 10% | 20% - 30% | 25% |